The Magicball YGBW-260 Dry ice storage container material adopt imported low temperature resistant plastic, greatly improved the insulation , abrasive resistance, impact resistance etc performance. This model dry ice box can store more than 320kg block dry ice or more than 260 kg pellet dry ice. ( Download PDF )
Dry Ice Storage Container YGBW-260
| | | | |
| --- | --- | --- | --- |
| Outer Size(cm) | 109*69*98 | Heat Loss | 4-6%/24h |
| Inter Size(cm) | 94*54*65 | Weight(kg) | 60 |
| Capacity(l) | 325 | | |
Feature:
★ Capacity:325L it can store 260kg of dry ice easily.
★ Material: PE advanced engineering plastic, low temperature, radiation -proof.
★ Insulation:75mm thick insulation layer, Effective in reducing volatile dry ice.
★ Shape: Box cover and box also molding in one.
★ Practical: At the bottom of the all-round wheels with durability.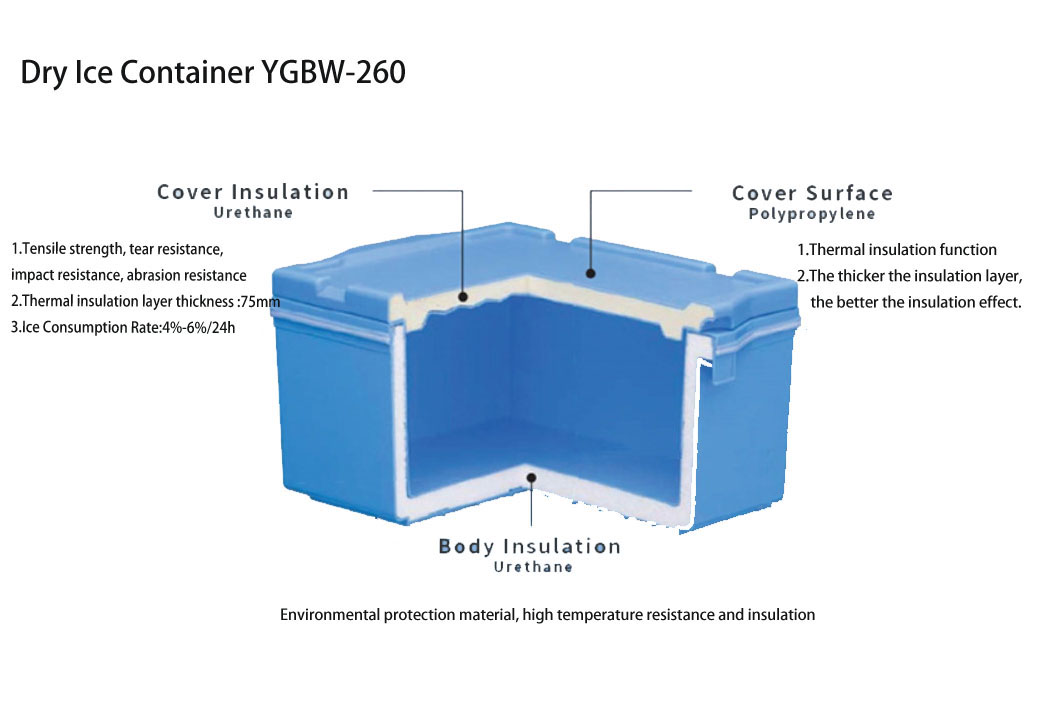 Dry ice is always delivered in insulated containers. This is why Magicball has always offered dry ice containers with a very insulating value specifically designed for the dry ice shipping and storage of dry ice.

If you want small capacity dry ice container , we recommend YGBW-60 Dry Ice Container.
We support our customers building up their dry ice business and are pleased to also provide our advice in regards to dry ice equipment and Dry ice blasting machine
Dry ice Production
● Dry ice Blasing machine Centres
General Information about Dry ice
● How to choose dry ice pelletizer machine ?
● How is dry ice pellets produced?
● How to storage and use of dry ice?

● How to research the dry ice market?
● The Process of producing dry ice