The Magicball Dry Ice Pelletizer YGBK-600-2 is a compact, powerful and versatile machine producing high quality dry ice pellets in the sizes 3mm, 6mm, 10mm ,16mm and 19mm (1/8, 1/4, 3/8, 5/8 ,19/25 in) for a medium-sized dry ice requirement. This dry ice machine production capacity is 1200-1500kg/h(2640-3300lbs/h) in the daily working process. Product Description. ( Download PDF )
Dry Ice Pelletizer YGBK-600-2
| | | | |
| --- | --- | --- | --- |
| Motor Power(kw) | 37 | Liquid inlet pressure(mpa) | ≤2.1 |
| Dry Ice Size (mm) | 3-19 | Liquid inlet diameter(mm) | 2-DN25 |
| Dry Ice Size(inch) | 0.1-0.7 | Exhaust pipe diameter (mm) | 2-DN70 |
| Min-Max (kg/h) | 1200-1500 | Fuel tankage (l) | 500 |
| Raw Materials(t/m³) | ≥1.5 | Overall Dimension(cm) | 260*180*195 |
| CO²Transformation rate | ≥45% | Weight(kg/lbs) | 4000/8800 |
YGBK-600-2 Production Video please Click HERE.
This is the whole dry ice solution for dry ice slice.
Including dry ice pellet machine, dry ice reformer and dry ice wrapping machine.
Dry ice pellet machine YGBK-600-2 with two cylinders, output is 1200-1500kg per hour, can make dry ice 3mm-19mm.
Dry ice reformer machine YGCX-4000, output is about 1100kg per hour. Can make dry ice slice 95mm*95mm*(10-60)mm or 125mm*105mm*(10-60)mm. More info. Please CLICK HERE.
Dry ice wrapping machine QR-350X, 20-80pcs/min.
Feature:
★ OMRON PLC and touch screen enable automation and digital production;
★ The stainless steel housing resists long-term corrosion of the condensate;
★ Adopt low noise digital servo control system;
★ Advanced technology makes dry ice conversion rate higher than 42%;
★ The use of cold gas from the exhaust gas to cool the oil temperature greatly reduces energy consumption;
Application:
For low temperature cleaning
For viticulture applications: vat inertia, protected harvest, vat homogenization, mixing, carbonization...
For the agri-food industry: meat processing industry, industrial biscuits...
Road transport: temperature control, medical, veterinary and food transportation.

For entertainment: dry ice fog effect.
Dry Ice Pellet Size: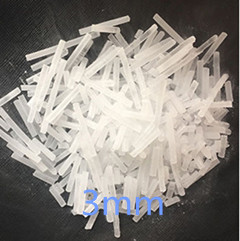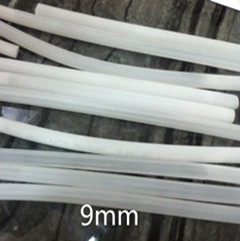 3mm (1/8 in ) 9mm (3/8 in)

Dry Ice Blasting Cooling Purposes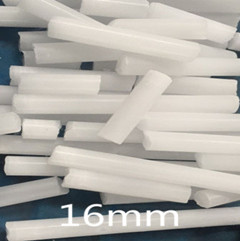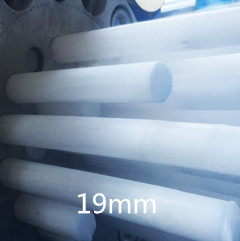 16mm(5/8 in ) 19mm (19/25 in)
Cooling Purposes Cooling Purposes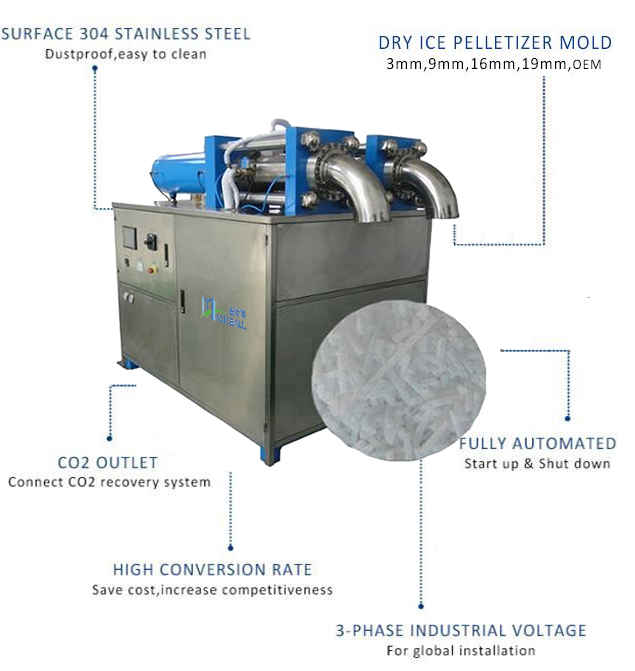 BENEFITS OF DRY ICE PELLETIZER MACHINE:
1. 3-Phase industrial voltage: For global installation
2. Fully automated: Start up & Shut down
3. Dry ice pelletizer mold:3mm,9mm,16mm,19mm
4. High transformation rate: LCO2:dry ice=2.3-2.5 Ton:1 Ton
5. Surface & Mold: 304 Stainless Steel
6. Production Time: Recommend 8-10 hours/day, acceptable 24 hours during peak season.
7. Hydraulic system---Taiwan Brand PLC---OMRON Brand
Intermediate relays---OMRON Brand Solenoid valve---DANFOSS Brand
We support our customers building up their dry ice business and are pleased to also provide our advice in regards to
dry ice blasting machine
and
dry ice storage container.
Dry ice Production
● Magicball Dry Ice Pelletizer YGBK-50-1
● Magicball Dry Ice Pelletizer YGBK-100-1

● Magicball Dry Ice Pelletizer YGBK-200-1
● Magicball Dry Ice Pelletizer YGBK-300-1
● Magicball Dry Ice Pelletizer YGBK-200-2
● Magicball Dry Ice Pelletizer YGBK-300-2
● Magicball Dry Ice Pelletizer YGBK-300-4

General Information about Dry ice
● How to choose dry ice pelletizer machine ?
● How is dry ice pellets produced?
● How to storage and use of dry ice?

● How to research the dry ice market?
● The Process of producing dry ice